Cybergoats - wave 7
COMING SOON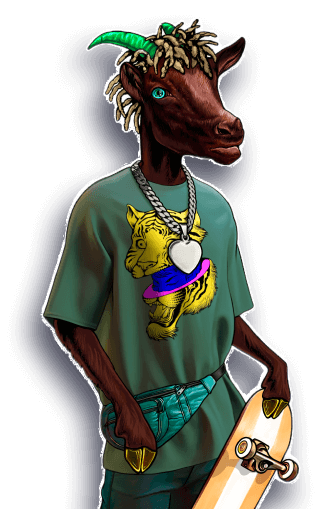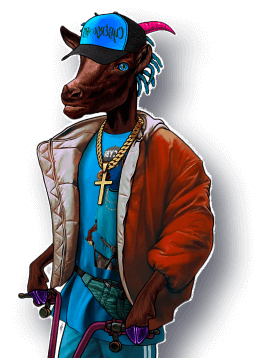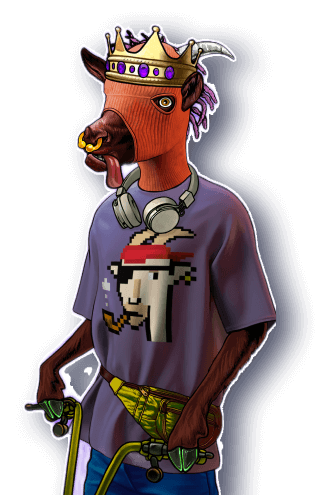 About Cybergoats
Mint a goat. Get a full rebate.
Full Mint Rebate

Each original Cybergoat owner will receive Ethereum from the sales and resales of all other goats in order to eventually be reimbursed for the mint price paid. The more active the collection becomes, the faster you will receive the full amount you paid us to mint a Cybergoat.

Milk Your Cybergoat

We are building our own ERC-20 token ecosystem. Besides getting a full mint rebate, you will be able to use our dApp to track your Cybergoats and eventually milk them for our utility token. This is currently under active development and will be released in the coming months.

Fuel-Efficient Contract

We have been working to bring you the most efficient way in the world to mint ERC-721 tokens. We think you will be pleasantly surprised when you see the gas price to mint a Cybergoat on Ethereum Mainnet. You have to see it to believe it.

Beautiful Art

We know you like beautiful art, so we did our best to partner with real, talented artists who made a very impressive number of layers and variations. From rare to common pieces, we really like and respect their work.

Reliable Blockchain

Verified accounts, the tried and true Ethereum Mainnet ecosystem, proven marketplaces - even though the world of NFTs is relatively new, we are excited to launch in the most tested environment available.

Verifiable Payouts

The beauty of blockchains is in that they are transparent. You can easily verify that each goat owner receives his fair share of Ethereum. You can then use your funds to buy more NFTs, support your favorite cause or spend them however you like.
$250,000 Giveaway
Everyone who mints a rare Gold Cybergoat will receive 0.25 Eth. Will your goat be golden?
* A payment will be made in Ethereum to the same address that minted each golden goat during the normal distribution process of mint rebate funds.
Distributed Autonomous Organization
Goat owners influence the project's further development.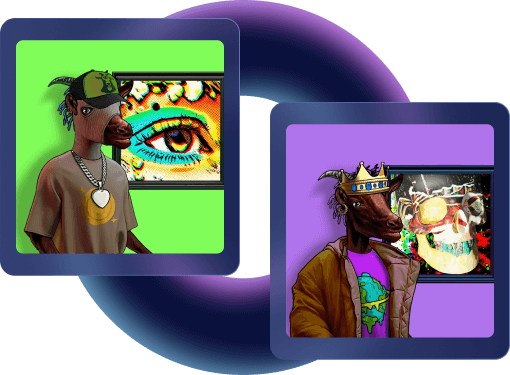 Our main goal is to eventually automate voting, NFT pricing, payouts, utility token logic and as many other things as we can. We live by the principle: 1 goat, 1 vote. While this is only the beginning, we have already built a solid foundation of owners and elected a government. Owners regularly vote on government proposals and have a very active role in determining our future.
Curious? We love questions.
Our Government
juggernog20 (MST)

Juggernog is a Canadian capital markets and securities lawyer specializing in cryptocurrency and blockchain matters. Outside of law, he takes a keen interest in learning about crypto mining and exciting NFT projects. In his spare time, he enjoys golfing, ice hockey and aviation.

gilcarlos

Gilcarlos is a crypto enthusiast with a Business Innovation Masters Degree. Tries to be a cool dude, and he sometimes achieves it.

Alixsof

Makes major NFT releases in the middle of the night. Presses random buttons. Barely understands what is going on.

Chusla

Chusla.eth is a builder at heart. With 10+ years as a lead product manager building dominant marketplaces (from low latency algo exchanges to niche trade finance marketplaces to enterprise blockchain solutions) for the likes of Goldman Sachs, PIMCO and sundry Fortune 2000 multinational corporations, Chusla finally got sick of that shit and is now all-in on web3 and NFTs. He has decided he'd rather build for his fellow goats than some rich bankers. Mehh meh mehh.

Las Vegas

Smokes meth (milked Ethereum).

luvcraft

Luvcraft has been with the project from day 0 as an artist and collector. He has been called many names: goat lover, goat artist, goat maniac. All are fine with him. Be a part of the cult. Be like him, become a goat.

jackg235

Jackg235 graduated from the University of Pennsylvania with master's and bachelor's degrees in computer science. He has many years of experience in software engineering, distributed computing and decentralized architecture design. He loves goats.

2root4u

2root4u aka gt3rob is a lifelong IT enthusiast whose interests and experience cover the full stack of hardware, software, security, and most recently cloud infrastructure. Outside of a day job, he is a degen by night hanging with select NFT communities and researching DeFi opportunities.

ZeChup

ZeChup is a degen and randomly goes to Thailand sometimes. Everyone voted for him enthusiastically. He is weird.

0x0xYY

Investment banking dropout / DeFi Decacorn wannabe / Firm supporter of the Cybergoat community.
Sup with the roadmap?
The future of cybergoats
CYBERGOATS is a community project. It is the community and people like you who determine the future and direction of the project by voting in our Discord. We have many ideas and concepts that we are currently working on. The project is likely to evolve over time and keep growing. Here is what we've achieved so far.
Web dashboard

A tool to view and manage your goats is under active development.

DAO/Voting development

Goat government elected, token Discord channel access enabled, token-based DAO voting TBD pending ERC-20 deployment.

Integrating with Rarity Tools

Live

Integrating with Rarity Sniper

Planned for Wave 6

Collection Explorer & Statistics

Live

Improving the Rebate System

Changes in progress - Wave 6

DApp/ERC-20 Token Milking Development

Under active development

GoatSwap

Planned
Idea Sessions
We plan on periodically conducting development idea sessions with active users to listen to your feature requests and improve our current offering.
Past Goat Releases
Wave 1

September 15, 2021, 10AM PDT

Wave 2

September 28, 2021, 10AM PDT

Wave 3

October 21, 2021, 10AM PDT

Wave 4

December 15, 2021, 10AM PDT

Wave 5

January 4, 2021, 10AM PDT
Future Waves: To Be Announced
We have made a commitment to support all types of goats any time we can, because we love goats.
FAQ
How it works
Please reach out to us on Discord or social media if you would like more information.
What is an rNFT?

An rNFT (Remunerative NFT) is an enhanced form of traditional non-fungible token ownership. In addition to the NFT component, we enable our owners to get a full mint rebate. Cybergoats is the world's first rNFT collection that plans to reimburse its original minters from the sales and resales of other Cybergoats.

How will I receive my mint rebate? Do I need to do anything?

Whenever you mint a new Cybergoat, your address and amount you paid us to mint it will be recorded. That address will be on the payouts list until it receives 100% of that amount. We will be working in the background and redistributing Ethereum from all Cybergoats sales and resales. The funds will be split up and sent to all original goat owners after each wave is over and periodically in between waves until everyone is paid back. You don't need to do anything. Secondary market goat purchasers do not qualify to receive the rebate. The gas you spent on minting is not a part of the rebate amount. IF YOU SELL OR TRANSFER YOUR GOAT BEFORE YOU RECEIVE ALL OF YOUR REBATE, YOUR REMAINING REBATE WILL BE FORFEITED AND GO TO OTHER GOATS. HODL!

How do I milk my goat for the ERC-20 utility token?

You cannot milk your goat for the token right now - that part is future functionality under development. Once it launches, milking your Cybergoat will be very easy. We are working on developing a dApp you will be able to use to monitor and milk your goats for our utility token. Subject to voting and owner approval, all existing goats are likely to receive an airdrop when the token and dApp launch.

What about security/rug pull? Can rebate payouts be verified?

As our project lives on the Ethereum blockchain, everything is 100% transparent and auditable. Past rebate payouts to owners and goat sales and resales can be looked up and verified on the blockchain by any interested party. Come hang out in Discord and talk to some owners.

Can I resell my goat at any time?

Of course. You may buy, sell and resell your Cybergoat at any time just like any ordinary NFT. However, please keep in mind that your rebate will be forfeited if you sell or transfer your goat before you receive all of your rebate. This was due to a government initiative to raise our floor price (in the beginning, people sold goats for lower than the mint price and still profited because they churned rebate).

How much does a Cybergoat cost? What's the mint price?

The last couple of waves have been minting at 0.08 Ether per goat. Goat owners will vote and determine the size and pricing for future waves. Also, we have lower Ethereum Mainnet gas when compared to many other ERC-721 collections.

How many Cybergoats will there be?

We have been getting lots of inquiries about purchasing a Cybergoat. While there may unfortunately be a shortage of Cybergoats in the beginning, we will be doing our best to draw more and eventually release as many waves as the market demands. Ultimately, it is the goat owners who will decide the size and price of each wave. We will make announcements on social media, in our Discord server and on our website in advance of each wave. As each original goat owner will receive an Ethereum rebate from all other goat sales and resales, we suggest to get your Cybergoat as soon as you can. Right now, we have enough art to release 25,000 unique goats.

How much Ethereum will I receive after each wave?

All of the Ethereum generated from original goat sales and resale royalties will be evenly split among everyone who currently holds a Cybergoat and is still owed some rebate amount. This is done in order to encourage collectors and reduce the financial burden of NFT ownership. If goat owners collectively vote to approve DAO expenses, those expenses will be taken out of the common pot for that wave before the rebate payouts are made. The exact amount of Ethereum you receive will depend on wave size, current goat price, number of secondary market sales and DAO expenses. The more active the collection becomes, the faster you will receive the full amount of your rebate.

You are giving away all the money back to owners. What is in it for you?

We are excited about this project and the opportunity to make and distribute great art. In order to pay gas, platform fees, compensate our artists, team members and developers, foster a safe and friendly community and support various goat-related charities, we plan on keeping and milking every fifth goat alongside other owners. There is no traditional "prefarm/premine". We may also occasionally award Cybergoats to active community members and others who help us move the project forward based upon merit. Everything is 100% transparent and can be verified on the blockchain.

Which charities will you support?

The first two charities we plan on supporting are Heifer International and Rocky Mountain Goat Alliance. If you would like to suggest another goat-friendly charity, please drop a note in our Discord server.

How can I mint a goat? Can I get on the whitelist?

To get on the whitelist, please visit https://wl.artsyassets.com/. Whitelist spot holders may mint up to 24 hours before the wave opens up to the public.

How did you get your gas to be so low?
Join our Discord Channel
This is a public channel for everyone interested in Artsy Assets and NFTs. Once you own a Cybergoat, you are welcome to join the private owners only chat.